My baby girl turned 6 years old this week. We had her party last Saturday.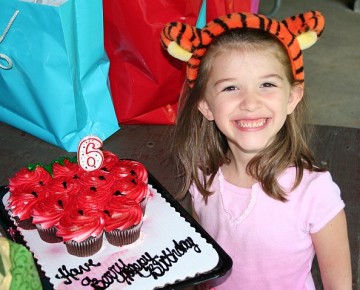 The weekend before, she had asked me to teach her to knit with 2 needles, not with the Knifty Knitters anymore. So, her big 8 year old sister, BooHopper, helped me teach her (We also put on the Knitty Gritty episode that teaches kids to knit).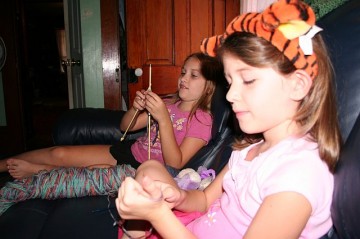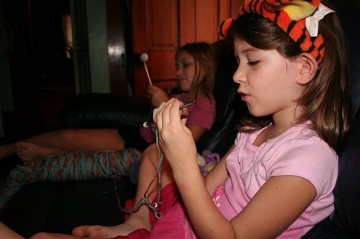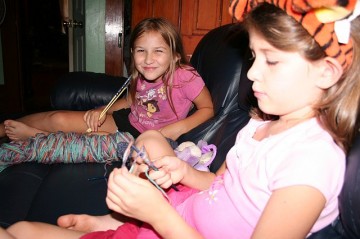 Em had seen my calendar last week, and asked why I had knitting listed on her birthday. I wasn't going knitting on her birthday was I?! I explained to her that knitting is every Tuesday night, I have it on my calendar for every Tuesday, but I don't go every Tuesday, and I wasn't planning to go knitting the Tuesday that was her birthday.
Unless she wanted to go. I was kidding. She wasn't. She decided that she definitely wanted to go with me to knitting at Starbucks on her actual birthday. I believe this was the day she asked me to teach her to knit with two needles. I kept asking her was she sure, as she was telling everyone that she was going to knitting on her birthday, and she was very sure. So Em and BooHopper joined Mom, Kim & I and the rest of the gals at knitting this past Tuesday night. They were dolls.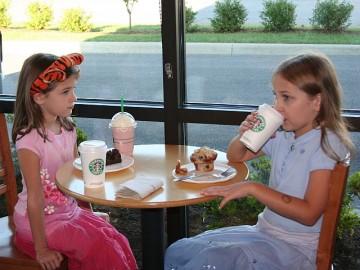 At least I think that they did very well for a 6 & 8 year old. Now I didn't happen to catch a photo of them knitting. Em knit ONE stitch and BooHopper knit ONE row (22 sts long) and that was it. Otherwise they enjoyed their _birthday cake_ (caramel fudge brownie and a blueberry muffin) and their sweet drinks and played some board games like checkers, pick-up-sticks and chess.
They are 2 of my most favorite WIP(Works In Progress)'s!