Gosh, I hope she likes it! Last December she requested a black shrug, form fitting, with a tie. I chose the Cabled Shrug from the Summer '2005 Interweave Knits staff project. I discovered that knitting with black yarn can make you crazy. Good light is _IMPORTANT._ And I also found out, _after_ I finished the shrug and found that the sleeves were too short, that it helps if you read the intro paragraph to a pattern and realize that the pattern is made of two 3/4 sleeves, started from the cuff, and worked to the middle of the back, where the two sides are grafted together. A nice, delicate cable down each sleeve is a nice touch. I enjoyed the pattern more than the yarn.
PATTERN: Cabled Shrug (*PDF) from Interweave Knits Summer '2005 Staff Project – Shoulder Shrugs
YARN: Lion Brand Wool-Ease Sport from the bargain bin at my LYS
NEEDLES: size 5 and 6 Denise
NOTES: My gauge was on the longer side – this is why the sleeves being short really surprised me. DOH! 3/4 sleeves means 3/4 sleeves.
Front: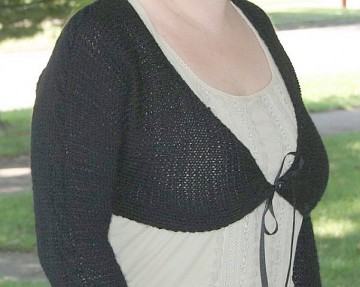 Back: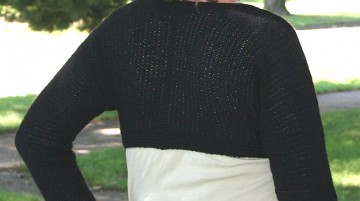 Side: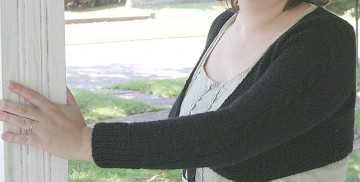 (If you click on the pop-up image and look close, depending on your monitor's brightness, you should be able to see the cable down the sleeve.)
Gosh, I hope she likes it. It's another UFO(UnFinishedObject) finished for UFO August. And finished just in time to send for her birthday, the 2nd of September. Good thing that she doesn't keep up with my blog here – she might be surprised that i _FINALLY_ finished it!