2013 sure had it's ups and downs. The second half just about did me in – but I survived.
I've been making some changes, in order to preserve my sanity and my life. I can not do everything, all at once, and do it well, which pains me, so I am still learning to let go, make good choices and enjoy life.
My goals for the upcoming year are many, involving, as usual, sleep, health, exercise, etc. but also for travel abroad, setting up for the future, and learning to STOP and ENJOY more. I'm also working on not being afraid to make choices that are the best for not just those around me, but for ME, too!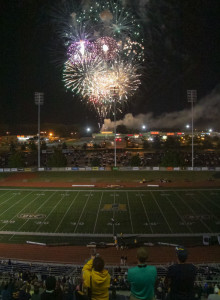 So, the first one of this new year is to take a few minutes now and then to express myself in words, here, for my mental health, sanity and enjoyment.
And to add to things, one of my joys, making photos, here is one that I took this past September, involving fireworks, that I'll share now in honor of the New Year.
Happy New Year!